Carpet Cleaning – Do's and Don'ts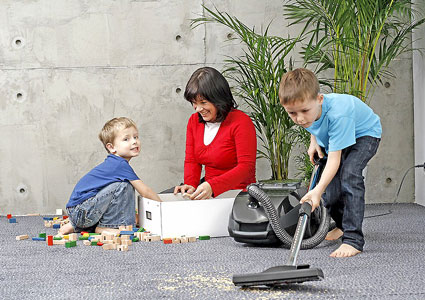 While you have a large majority of people who like to have carpets in their house, only a small percent of them understand the basics of keeping their carpets in good condition. Lack of initiative is not the main reason why people neglect their valued carpets; it's mostly lack of knowledge. A lot of people understand the benefits of carpet cleaning; they are just not sure how to go about it. And, attempting to clean your carpet without sufficient knowledge can have disastrous consequences. This article will is aimed at giving you some easy-to-follow tips and suggestions so that you can do some basic 'looking after' of your carpets at home and enjoy the benefits of carpet cleaning, without shelling out too much money.
Some Do's
Vacuum your carpets regularly – Spending just 10 – 15 minutes on vacuuming your carpet thoroughly can increase its life by a few years. We all move on the assumption that carpets do not last very long, but all are extremely keen that they should last as long as possible. Additionally, dust and dirt do not accumulate or build up in the carpet, which can make them easier to clean in the long run. By targeting the dust and harmful bacteria, your family also stays protected against health infections and allergies. Besides, regular vacuuming can also help you save money on your annual or bi-annual carpet cleaning costs, yet another of the benefits of carpet cleaning.
Take suggestion and advice from professional carpet cleaning services – Apart from explaining all the benefits of carpet cleaning, they will be able to give you some great tips on how to maintain the beauty of your carpet. They can also take care of any hard-to-tackle problems and use their expertise to get rid of stubborn stains and other carpet problems by using right equipment.
Get background information on the carpet cleaners and have the certification verified and checked. Try to get hold of some customer testimonials, which will give you a good idea of their expertise in this field. Also, ask all the questions you can about the services they offer and what is included in a package. Find out if there any additional costs that are likely to creep in and land you with a hefty bill. While it is all very well to spend money on the best cleaning services and products to get the benefits of carpet cleaning, there is no reason why you should spend money unnecessarily.
Some Don'ts
Do not use any chemicals on your carpet, without knowing beforehand what kind of effect it may have. Carpets are extremely delicate and misuse of chemicals can do more harm than good to delicate carpets. When in doubt, don't use a chemical you're unsure of.
Do not use cleansing agents or techniques that you are not familiar with. Some techniques of cleaning may cause the stain to spread more or be further absorbed into the carpet. If an available product is not certified or has no credible recommendations, it's best not to use it.
Undoubtedly, there are several benefits of carpet cleaning. However, it is also important to have relevant information before you begin to do it yourself. Timely care of your carpet can reduce future expenditure on repairing and replacing it.