Interior Design for Your Living Room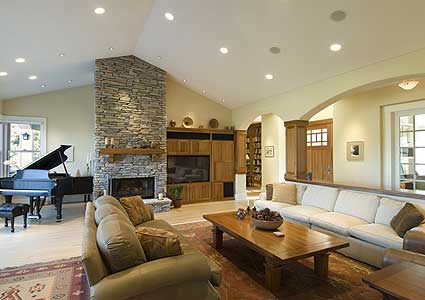 The living room in your house is the ultimate place to relax and entertain your friends. Most likely you will spend most of your leisure time in your living room, so it is important to create an interior design that can make you feel comfortable and allow you to spend good times with your family and friends.
A stylish living room always enables you to spend a few peaceful hours away from the daily routine schedule. Many people these days prefer to hire an interior designer to make their living room more gorgeous than before; a comfortable, serene and inviting getaway from this hectic life. This can be an expensive task, but the money you spend will definitely return the investment with hours of enjoyment, peace and reflection.
How to create an interior design for your living at an affordable rate is the most difficult question for a lot of people. The good news is you can create a healthy living room even if you cannot afford to spend lot of money. Many interior design websites on the net will allow you to use the space in your living room to great effect. Today you can rely on such decorating sites to create the living room of your dreams. All you need is an understanding of your project plan and your budget, and then you can search for websites that will provide you with valuable tips and advice.
The first important factor is to arrange your furniture in a proper way. Make a list of your furniture and if possible try to include stylish lounge pieces in your list. The sofas and the seating chairs must coordinate with each other in order to get a sophisticated look. Whether you choose traditional or contemporary furniture, the fabric and style you choose must suit your liking and lifestyle. Good lighting also plays an important role in the living room interior design process. The lighting effect and arrangement of furniture can definitely give a nice touch to your living room interior. Lighting has the ability to change the entire atmosphere in a room, so experiment and find what best suits you.
Other important aspects include color, flooring and position of the television in your living room. A flat screen plasma TV mounted on a corner piece can be an ideal option for both look and space. The wiring and the other electronic equipment must be arranged in a proper way to create a clean and organized look. An aquarium, ceiling chandelier, coffee table, and extra seating arrangement can add extra effect in the process of creating a formal living room.
Apart from saving money, you can create a stylish living room on your own. Creating the interior design for your living room can be a fun and creative way to save money during these economic difficult times. You don't need to spend a ton of money creating your own personal haven for rest and relaxation. Research on the internet, buy a few interior decorating magazines and rent a few books from the library and you'll be well on your way.