How To Make Your Home More Eco Friendly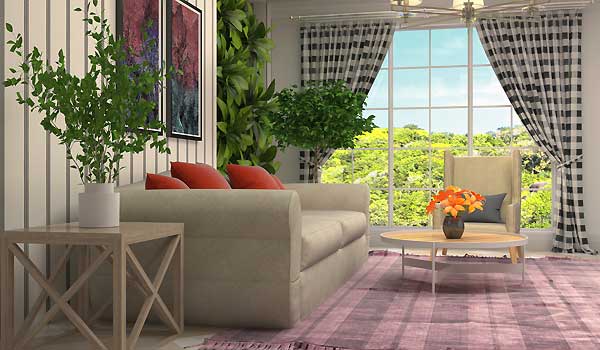 An eco-friendly house, also called green home, is a house that has been built and designed using environmentally friendly materials and appliances. By making some small changes, you can make your your home more ecologically friendly and also help protect the environment.
Eco Friendly Kitchens
These days, making a more eco-friendly home is a main concern for many homeowners who are more focused than ever before about their wellbeing and surroundings. So what ways can you make your house more eco friendly? Below are 5 ways to offer your kitchen a touch of green.
Opt for green flooring and cabinets
If your kitchen is in need of a change then eco-friendly products such as bamboo are an outstanding way to present your kitchen in a new light while using renewable products. Bamboo can be worked into your floors and cabinets and gives a vivid artistic look to the room.. Not a bamboo fan? You needn't adopt its use just because it's becoming hugely popular. You can always buy second hand furniture and fittings, avoiding the necessity for more trees to be used up for your benefit.
Improve your appliances
As customer requirement for more energy-competent solutions thrive, so too does the amount of new and enhanced appliances hitting the store shelves. Companies continue to progress in technological innovation, making huge ecological end economical advances in dishwashers, fridges and washing machines to name a few. Keep in mind, when upgrading your machines it's vital to not only evaluate energy ratings but also the superiority of the machine: how long will it last? When you buy a first-class product it will typically last a lot longer than an inferior one, providing economies of scale.
Break old habits
For a more environmentally-friendly approach to your every day cooking, rethink your food plans around the use of your oven. Foods that consist of baked vegetables and meat will make complete use of the energy consumed by the oven, as opposed to roasting the meat and using the hob or stove top to simmer vegetables. If you are going to use an oven, use it as effectively as you can. If your main interest is in saving power then add an occasional meal that doesn't need heat, such as salads, or gourmet sandwiches.
Room for recycling
The kitchen is well known for producing a big quantity of rubbish both from food scraps and from the excess food wrapping and containers. Choosing products that are light on packaging and that use eco-friendly resources is a great place to begin. Making room in your kitchen for recycling bins will ensure that your waste makes its way back to the recycling plant instead of a landfill. Without creating adequate room for recycling, it's all too easy to dump everything in the common waste bin. Look for a large, easy to clean container for recycled waste and place it in an easy to reach position in the kitchen or adjacent room such as the laundry. If it's simple to recycle then everybody is more likely to do it more frequently.
Clean and green
Keeping away from toxic cleaners is a concern when it comes to keeping your house environment friendly and keeping good health. However, that doesn't mean your kitchen can't gleam with cleanliness. There are plenty of green cleaning products around these days that are plant-based, or you could come up with your own product using everyday components such as baking soda mixed with vinegar.
By applying these green and environment friendly guidelines to your kitchen, you will be well on your way to reduced energy consumption, achieving better health and creating a better atmosphere for us all.
Eco Friendly Floors
A few years ago the expression eco-friendly conjured up images of tasteless, dull and "blah" materials. Luckily, that is not the case today. As more and more designers are opting for eco-friendly materials for their environmentally savvy customers, manufacturers have stepped up and given the design world many stunning choices to choose from.
Cork
A relatively new thing for the flooring world is cork. It is frequently seen on walls or in your preferred bottle of wine, but it is a wonderful material for floors. It is anti-microbial which helps to decrease allergens in the home. Cork is also fire retardant, maintenance free, and acts as a natural insect repellent too. It can be finished in a selection of paints and stains to go with any color scheme or design style. Its resilience allows for use in any part of the house. A good quality cork can last between 10-30 years. When properly sealed, it can make a nice warm option on bathroom floors for your bare feet.
Bamboo
Another wood-like option gaining fame is bamboo. Bamboo is in fact a grass that shares similar qualities with hardwood. It is sturdy, trouble-free to maintain and easy to install. Bamboo is long-lasting and is made from natural vegetation that matures in three to five years. Bamboo is light in weight, and available in different types that will work in any surrounding or decor. Its diverse grains and wide selection of colors give it an edge over conventional flooring, allowing for customization not often found elsewhere.
Linoleum
Linoleum is made from a mixture of cork dust, pigments, tree resins, linseed oil, wood flour, and ground limestone. Like cork, it reduces flammability and is water resistant. Linoleum fell out of favor in the 1940s. As designers began asking for it again, it came back into fashion with an immense collection of dazzling, exciting colors and a new sealer to guard it from stains. It has an extensive shelf life and can withstand a lot of wear and tear.
Glass tiles
Have you ever wondered what happens to the beer and wine bottles that are shipped off to be recycled? They are transformed into stunning glass tiles. This renewable source is rapidly becoming a fantastic alternative for floors as well as bathroom and kitchen walls. Glass has similar benefits to other eco-friendly materials. It is simple to maintain and won't discolor. Glass comes in an unlimited array of colors, patterns and finishes appropriate for most design formats. Glass will replicate light rather than absorb it, adding that extra layer of light some rooms require.
Concrete
Refined concrete is an unlikely sustainable material that is gaining in reputation. Concrete is usually slab on grade and used as a sub flooring in some housing settings. However, if it is refined and tinted to the homeowners taste and style there is no need for conventional flooring to be put over it. Concrete is tremendously tough, easy to maintain and never needs to be substituted.
Wool Carpet
For a long time a preferred material for homes has been the carpet. It is soft to walk on, comfortable to sit on and comes in a variety of colors and patterns. Regrettably, carpet has normally been made using unstable organic compounds or pollutants that are dangerous to the environment and to our wellbeing. There are eco-friendly alternatives available in the form of wool carpets. Wool is a natural fiber turned into a thread that can be dyed any color conceivable, and can then be woven to make a carpet. It is one of the primary materials used as a floor cover, is very long-lasting and can even last centuries.
P.E.T Berber carpet
Another carpet which can be considered is Polyester (P.E.T) Berber. It is manufactured from recycled plastic bottles, and has the least impact on the atmosphere. There are numerous benefits to this recycled material. It is long-lasting, spill-resistant and comes in a wide range of aesthetically enjoyable colors and patterns. It typically has a flecked appearance making it suitable to most color schemes. It's also a very cheap material.
Rubber
Rubber flooring made from recycled tires is frequently found at the local gym or on the area playgrounds. It is gradually finding its way into our kitchens, sunrooms and bathrooms as an adaptable, stunning and long-term option. It is water resistant and comes in numerous color and pattern choices.
Leather
Leather is an astonishing material that can be used as flooring. The leather used for flooring is taken from the center-most part of the cowhide and is thicker than the leather portions used for making things such as belts, wallets and handbags. The warm feel under foot makes it ideal for bedrooms, closets and small areas. Though not a good fabric for bathrooms, kitchens or other damp areas of a home, it is very long-lasting and will wear well over time.
Reclaimed hardwood
If you have your heart set on conventional hardwood flooring, while not typically considered eco-friendly due to deforestation concerns, it can still be a good choice.
Fortunately with today's expertise, technology and a bit of imagination, environment-friendly flooring does not have to come at the cost of style.
ECO Friendly Lighting Choices
There is a lot of evidence to suggest we are consuming far too much energy per capita while spending more time inside than we should. Ignoring the health benefits offered by the natural light of the sun in this way increases our health risks. There is no doubt that progression in the field of environment-friendly lighting is fast paced and inventive. Environment-friendly lighting choices will help you save on energy bills while taking steps to improve your health by making the most of natural light sources.
Natural light
There is strong proof to suggest that uninterrupted exposure to natural light has numerous benefits for our health. Furthermore, sunlight is free of charge and making the most of it will undeniably save you money; so take advantage of it.
Remove heavy drapes that are blocking windows and think of installing skylights where possible to take advantage of the flow of light into your home. You could even use solar powered lights to light up outside areas of your home such as patios and gardens.
Exploit natural light
There is no point mounting extra skylights and windows if the normal light obtained is then absorbed by gloomy wall colors and furnishings. Enhance sunlight entering your home by using reflective equipments and light colors on walls, floors and furnishings. Light colors will replicate the light and make for a brighter, roomier feel.
Change your bulbs
One of the most accepted and readily available options to glowing bulbs is fluorescent lighting. Changing your bulbs to a compressed fluorescent option is swift, simple and offers you an almost instant monetary return on your investment.
On average, these lighting options use 25% of the energy customary bulbs do and last approximately 15 times longer. Switching to these lighting options will not only save you money on your power bills, but it helps lower overall global energy usage.
Changing to LEDs
Other alternatives to luminous bulbs are LEDs. More energy competent and long lasting than incandescent bulbs, the LED is the bulb of the future. They use a minute amount of the energy conventional choices use and even though still quite new to the market, LED choices for home lighting are increasing quickly. Moreover, LEDs are free from mercury, which is toxic.
Sustain good habits
Although changing your bulbs and making the most of the flow of natural light into your home are environmentally friendly lighting alternatives, you must get into good habits if you truly want to make a difference. This includes turning off lights whenever they are not being used, using motion sensors to shut down lights that are needlessly left on, and using dimmer switches to ensure that only essential lighting is used.
Though we need light to live at ease, there are quite a few things we can do to make sure our options are as environmentally friendly as possible. Making the most of any and all accessible natural light, changing traditional bulbs to LEDs and beginning a good, sustainable lifestyle will decrease your energy bills. It will also help to reduce worldwide pollution, and give you an improved price on your environmentally friendly home if you ever decide you want to sell it.