How To Enhance The Appeal and Functionality Of Your Home With Sidewalks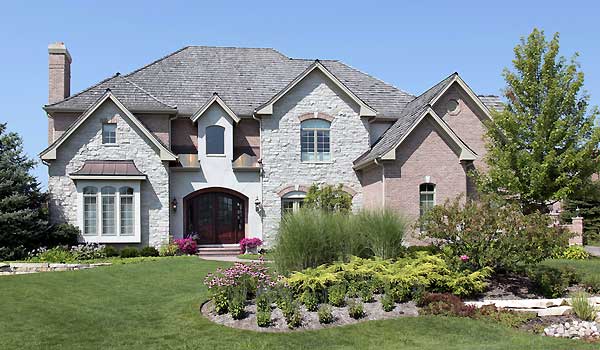 Sidewalks For Curb Appeal
If you don't already have a sidewalk, you may want to consider adding one to your property to enhance the appeal of your home's exterior and added value it creates. A sidewalk is a welcome addition to most any home and it offers a welcoming pathway for guests who come to your home. It can also add to the safety of your property by providing an open, clear pathway to the door.
Whether you're considering a sidewalk to the front door, the back entrance, or just to meander through the backyard or garden area, they can be attractive and appealing. They can also help you eliminate much of the dirt, grass, and mud that is tracked in your house family, guests, and even pets.
Ideas for the Planning Phase
Before you have a sidewalk installed, consider the following tips and get creative in your planning process:
1. A sidewalk does help you find your way to the doorway, but don't view it as destination. View a sidewalk as a pleasant way to meander through the yard.
2. Consider your sidewalk as a part of the overall visual appeal and aesthetics of your home. Match the color, design, and other features to collaborate and complement your home's decor and style.
3. Evaluate various options for materials. You can install a simple concrete sidewalk or you can use stamped concrete, brick, slate, or other types of products. Look at a variety of products and find one that matches your personality and the personality of your home.
4. Sidewalks are more attractive today than ever. Don't just consider a sidewalk that gets you from the car or driveway straight to the house. Consider a curved, meandering design. Think about the slope of your lawn and decide if wide steps at certain intervals are attractive. Play with different ideas to manage the various elevations that are encountered along the way and use those elevations to make the sidewalk visually appealing.
5. Consider the surrounding area including any trees, shrubbery and flower beds. Can the sidewalk meander through the garden? Are trees so close that roots can be a problem underneath the sidewalk once it is installed? Will shrubbery have to be cut back or removed for the sidewalk to be clear or is there another option. Work with the space you have and make the most of it. Make sure the plans for your sidewalk are not sidetracked by unexpected roots, shrubbery or other encumbrances.
6. Check for utility, phone, and electrical lines that may be buried in the area you are considering. Have them clearly marked to ensure they are not inadvertently damaged during construction of your sidewalk.
7. Consider lighting for the sidewalks you install. Once you decide where you want them, think about adding lamp posts or other lighting along the way. Illuminating sidewalks is an attractive way to enhance the beauty of the landscape and light the path.
In your quest to add a sidewalk to you property and enhance its beauty and safety features, use your imagination. Make the most of what you have to work with and create a stunning entrance to your home by creating an innovative, fresh sidewalk that welcomes friends and family.
Creating A Pleasant Environment Around Your Home
Making your home inviting, welcoming, and tranquil is a part of most everyone's desire. A home that has curb appeal and offers lots of warmth and hospitality is important to most all of us. That's why it's so important to take advantage of the features of your home to optimize them and have display your creativity. And sidewalks and driveways are a good place to start!
There are so many ways to enhance and improve the visual appearance of your sidewalks and driveways. From overlaying stamped concrete to staining, or from adding a pergola to your sidewalk entrance or building a sidewalk canopy, the opportunities to enhance your outdoor entrances to your home are endless.
Concrete pavers, overlays, flagstone, and aggregate are just a few ideas when it comes to enhancing the beauty of your sidewalks. Many people refer to these areas as hardscapes. They are hard areas of your landscape that can be more visually appealing by just making a few adjustments and additions. But it doesn't require a lot of money or hard labor to make big differences in the beauty of your hardscapes.
Tips for Enhancing Your Hardscapes
Consider some of these ideas to enhance your hardscapes, including your driveway and sidewalks:
1. Add a pergola or arbor to the end of your sidewalks for an inviting welcome.
2. Place two over-sized planters at the end of your driveway and update them with seasonal flowers or plant shrubbery to make them decorative and inviting.
3. Plant flowers along the sides of your sidewalk in a colorful display to welcome your guests.
4. Create a border around your driveway and fill it with small decorative pebbles. Place flower pots along the driveway where they won't be in the way of traffic and fill them with ivy.
5. Put a trellis at the end of your driveway or alongside it and plant a trailing vine of ivy for visual interest.
6. Place a park bench mid-way between the end of your sidewalk and your door if room permits. It doesn't take a lot of room for this. Even a short sidewalk is enhanced with a seat along the way.
7. Add a water feature at the entrance of your driveway or sidewalks. Kits can be purchased at home improvement stores and a water feature is an excellent way to create a calm, welcoming feeling to any area.
8. Hang a plant from a lamp post at the entrance to your driveway or sidewalks.
Enhancing the beauty of your hardscapes is a great way to make your home more inviting to friends and family. It just takes some creativity and imagination and you're on your way!
Enhancing Your Sidewalk With A Canopy
A sidewalk can be a very pleasing component of your landscape and can take advantage of surrounding gardens or shrubbery by traveling through them to your doorway. Sidewalks are both functional and attractive at the same time.
If you want to enhance your sidewalk's beauty and functionality, consider a canopied sidewalk for a fresh new look. A canopy adds protection during rain or when it is a hot, blistering sunny day. It also helps protect the sidewalk from harsh weather and it adds an element of surprise for greater curb appeal.
Tips for Creating A Canopy
Try the following ideas for a fresh approach to your house and create a sidewalk canopy that is a welcoming sign to your guests:
1. Canopies can be made of various materials. Wooden canopies are a wonderful idea and they are very practical as well. Pressure treated wood that has been treated for outdoor use and painted or stained adds an element of beauty to any home. In addition to wood, you can consider vinyl for your canopy as well.
2. Canopies can be open or closed. Similar to an arbor or pergola, a canopy can have open slats above. This open feature is perfect for a short sidewalk and it's a good place to grow climbing roses and other plants that are decorative around the canopy.
3. A closed canopy is also an option. The roof can be covered with shingles to match the house or it can be a simple wooden or vinyl roof, depending on the materials you choose. The point is to match the canopy of the sidewalk to match the style of the house.
4. When creating your canopy, consider the posts you use. Match them to the posts of your front porch or other parts of the house. The sidewalk will be a natural extension of the house when the canopy is designed to complement the home's features.
Once your sidewalk canopy is built, it's time to think about other decorative touches. You can hang seasonal plants such as ferns or pots of flowers along the walkway. Add lighting underneath the canopy or place a lamp post at the end to illuminate the sidewalk for enhanced beauty and greater safety. Plant flowers along the edges of the sidewalk and allow them to grow and climb up the posts to the canopy roof. Paint the canopy to match the colors of your house or stain it to give it a nostalgic appeal.
Use your imagination and create an entry way that has an element of surprise and beauty. Make it a welcoming sign to your guests and enjoy the quietude that comes with a canopied sidewalk.
Sidewalks In Stamped Concrete
Most sidewalks of created from gray or tan concrete. Today, there are many ways to update the look of an existing sidewalk or create an entirely new sidewalk at a very affordable cost. Decorative sidewalk products are quickly inundating the market and do-it-yourselfers can find lots of products to enhance the landscape. If you're in the market to update or add a sidewalk to your property, now is a great time because the affordability and new options offer you many choices.
One of the options for creating a beautiful sidewalk includes the use of stamped concrete. People have been using stamped concrete for driveways for a while, and some homeowners have discovered how it creates beautiful sidewalks too. With this product, you can imprint patterns and designs in wet concrete that give the sidewalk the same look of higher-cost products such as stone or brick.
Stamped concrete can be created to look like:
Brick
Flagstone
Stone
Tile
Wood
Geometric designs
Customized patterns
In addition to shapes and designs, you can also choose colors to coordinate with your home's color scheme. Adding color to a sidewalk gives it an unusual and unexpected twist, making it fun. Sidewalks can be expanded and stamped concrete can be used to carry the theme beyond the sidewalk to patios, retaining walls, steps, and fountains.
With stamped concrete, you get an economical solution to your needs that has the appearance of a higher-end product. It is also very easy to maintain and will last for many years to come. Enhance the exterior of your home today with a stamped concrete sidewalk and start enjoying the outdoor beauty tomorrow.
Using Stained Concrete For Your Sidewalk
When it comes to home improvement, one of the most affordable options is stained concrete. It is one of the most affordable and accessible ways to dress-up that slap of concrete on the sidewalk or patio. Stained concrete is a great way to create a customized appearance to your home and take advantage of an existing concrete sidewalk.
Tips for Choosing Colors and Stains
If you have concrete sidewalks around your home, consider staining them for an updated look and greater visual appeal. The following tips and ideas will help you decide how to choose the color that best suits your needs. Keep these tips in mind as you consider stained concrete for your sidewalks:
1. Concrete is very porous and it is a neutral color that is easily transformed into a beautiful spectacle with the proper products and tools.
2. Concrete staining requires the use of chemical stains which enables you to create beautiful, colorful products. When stained, these products resemble other materials including marble, natural stone, and other surfaces.
3. Stained concrete is very functional in addition to being magnificently beautiful.
4. Stained concrete is very luxurious and rich looking – making it look like you've spent much more than you actually did!
5. Color choices are not unlimited and they mostly come in earth tones that include browns, tan, blue-green, and terra cotta. The hues of each color are what makes them so special and beautiful.
6. Refinishing an existing sidewalk with stained concrete is a good option. The process requires an overlay of polymer-modified overlay. It can be upgraded by adding color or patterns.
7. To update or overlay a concrete sidewalk, the existing sidewalk must be in good structural condition. If it has large cracks or other damage, it may not be a possibility. Be sure to have this evaluated thoroughly before you spend money on the process. Resurfacing is not the answer to sidewalks with cracks, water problems, and other issues.
8. Existing concrete sidewalks can be infused with color to brighten and enhance them. It requires the use of chemical stains especially prepared for this purpose. You can get even darker colors and more vibrant color by using concrete dyes.
9. Most concrete dyes and stains are suitable for indoor or outdoor use. It's important to check and make sure before applying to an uncovered, outdoor sidewalk. Some manufacturers do not recommend their dyes or stains for outdoor use so check the manufacturer's instructions and usage recommendations.
10. You will most likely need to apply a clear sealer after a newly stained or dyed concrete application. This will help preserve the color and quality of the surface.
Before you assume that you have no choice other to endure the dull, drab appearance of a gray sidewalk, look at options for concrete staining. Sidewalks are not only a functional feature of your home, but they should be aesthetically pleasing as well. Concrete staining is one way to turn them from blah to stunning.
Sidewalks Light The Way To Your Home
Nothing is more appealing in the darkness of the night than a streetlight, porch lamp, or other light in the distant darkness. And nothing is more welcoming or appealing than a well lighted pathway to your home.
Exterior lighting should be functional but also beautiful. Lighting the pathway to your door makes friends and family feel welcome and invited. It also increases the curb appeal of your home and can create a decorative element to your home in daylight or at night. Illuminating the sidewalk is an attractive way to enhance the beauty of your home and increase the curb appeal exuded by your landscape.
Ideas for Sidewalk Lighting
Here are some of the ways to let your sidewalks light the way to your home:
1. Install decorative lighting fixtures that are welcoming beacon to all who come. This can include lamp posts, lanterns, and stand-alone lights that sit at the opening to the sidewalk. They open the pathway and add a flare of nostalgia depending on the style you choose.
2. Use moonlighting to reflect the beauty of your sidewalk into the area. You do this by installing lights in the trees or shrubbery around the sidewalks. This allows the light to flow effortlessly across the sidewalk and has a very appealing look.
3. Install solar lights along the sidewalks and pathway. They are attractive by day and are attractive and functional when the sun goes down. These lights are energy efficient and utilize the sun's rays to emit light at night. They come in a variety of styles and can be planted alongside the sidewalk to light the path.
4. Since many sidewalks may have steps or other elevations for navigation, lights make more sense from a safety perspective. But they also are beautiful additions to the landscape. Try an outdoor lighting fixture firmly planted in the ground where steps or other elevations change – alerting people to the change.
5. Sidewalks are often lined with flower beds and shrubbery. If this is the case with your sidewalks, consider putting small outdoor lights in the shrubbery and flower beds where they will present a glow along the pathway. Tuck them subtly behind the plants to make them almost invisible, yet giving a glow.
Sidewalks are a beautiful feature of any home. No matter if your sidewalk is a simple concrete walkway or an elaborate stone structure, illumination can enhance its beauty and its safety. Adding lights to your sidewalk and other outdoor features is an economical undertaking and you can definitely do-it-yourself with this project! Many options require no special wiring or other electrical work.
Use your creativity to improve the visual appearance of your sidewalks and entryways to your home by optimizing the use of new lighting features.
Final Words
Your home is likely to be your most important investment so it's important to enhance its beauty and functionality with sidewalks. As you pull into your driveway, it's nice to see the welcoming landscape that awaits you.
Sidewalks are a visually pleasing feature of most any home. They offer an enhanced curb appeal and are a great way to improve the look of a drab, dull exterior. They can be short and sweet, or long and elaborate. Sidewalks can meander throughout your property or simply be a few short steps out the front door.
Sidewalks are not only a part of the surrounding landscape, but they also provide us with a safe, clear path to move around our house, especially when they are well-maintained.