How To Install Vinyl Siding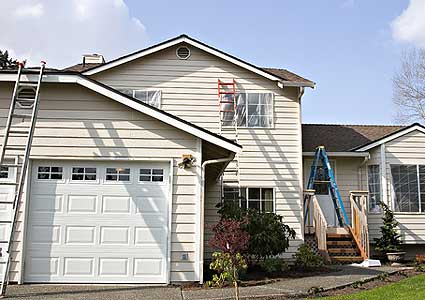 Vinyl siding is very popular because of its beauty and durability. With a little instruction, the average homeowner can install their vinyl siding themselves. Continue reading to learn how you can install new vinyl siding to your home's exterior.
Prepare Your Home's Exterior
Before beginning a vinyl siding project, you must remove your old siding. This is especially important if your old siding has any damage or rot. When you remove your old siding it is important to remove every nail from your home's exterior. This will help protect your new vinyl siding from accidental damage when you are installing.
Installing Your Vinyl Siding
Once you have removed the old siding and nails, it is time to begin installing your vinyl siding. To begin, you will need to install the starter trim and corner molding to your house. When installing leave two inches between your corner molding and starter trim for best results. Additionally, you will need to install trim around your doors and windows and along any overhand on your house.
After installing all of the corner molding and trim, it is time to begin installing your vinyl siding. Begin at the bottom of your home, snapping the vinyl siding into your starter trim. Leave one inch between your vinyl siding and your corner trim to allow for expansion during the warm summer months. Nail your vinyl siding every eighteen inches to help securely attach it to your home's exterior. Overlap each piece of vinyl siding by at least one and a half inches.
When you start the next row of siding, you will need to begin at the opposite end of the house from where you started your first row. This will help ensure that the seams do not line up. On the third row start with a shorter piece of siding to ensure that the seam does not line up with the two previous rows. Continue alternating the pattern up the side of the house ensuring that the seams do not line up.
As you approach a window, you may need to trim the top of the siding so that it can easily slide into the under-sill trim. Use a pair of tin snips to easily trim the siding to the appropriate width. Once you have it cut to the correct length, you will need use a punch to make holes for your nails. Around windows and doors, you should install nails every twelve inches, rather than eighteen inches.
Complete one side of your home completely before starting on another side. Use the instructions above for each side of your home. Once the entire home is completed, stand back and look at what you have done. You have saved thousands in labor and have made your home look fabulous.
As you can see, installing vinyl siding isn't very difficult once you understand the basics. When hanging your vinyl siding use one and a half inch long aluminum nails to protect your exterior from rust stains.