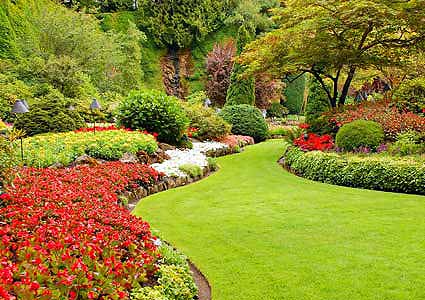 If you're already into gardening, you may want to add some roses to your front or back yard for their aesthetic quality. Creating a rose garden is easier than you may think, even if you don't have much of a green thumb. Here are a few things you'll need to know to help you get started.
First, you should choose the shape of the growing space before creating a rose garden. A square or rectangle are usually sufficient for the garden, and will give you enough space to display the beauty of each flower. It's also a good idea to use hybrid teas, as well as grandifloras and floribundas (types of roses) as the foundation for your rose garden. This will give the garden space a more exotic look.
When you have the seeds that you want for creating a rose garden, you should lay out straight rows, and plant only one type of rose in each row. Paving stones can separate each of the rose beds you've created, and you can choose flowers of different colors for a more attractive garden. Picking a focal spot for your garden and planting a perfect rose in that spot is also a great idea. There are a number of rose varieties that will bloom continuously, so they will always make your garden more attractive. If you decide that you want climbing roses for your garden, you should surround the growing space with latticework to that the roses can adorn the wall naturally.
If you're creating a rose garden that is a little more informal, you can switch up the types of roses that you plant, as well as their placement. Straight rows are not a required for informal gardens, and you can plant the flowers around fountains or other trees for a colorful addition to your yard. Curving lines instead of straight formations are also a large part of creating a rose garden that is informal. You can mix modern and old-fashioned roses together as well. For instance, mixing shrub roses with hybrid teas will create a lovely backdrop for some of the bigger plants in your garden.
You can even combine your favorite roses with some other edible plants when you're creating a rose garden. Lots of fresh herbs and greens look great against the bright colors of some roses, and the roses will provide a pleasant smell for some of the edible plants that you'll use for making meals for your family.
If you want more information on creating a rose garden, you can visit some of the local bookstores in your area for more information. You can also find some great reading material on sites like www.bn.com or www.amazon.com.